Many major chains do 60% to 70% of their business at the drive-thru. That's even nudged so-called fast-casual chains like Panera to move into the drive-thru arena and increase the number of drive-thrus it opens. The industry issue that's slowing down service: menu bloat. Fast food's ongoing market-share battle is forcing big chains to roll out more premium and more complex products more often. "The operational pressures to assemble those items are slowing down the drive-thru," says Sam Oches, editor of QSR. For example, Taco Bell told QSR that its Cantina Bell bowls sometimes have up to 12 ingredients which are much more complex to assemble than, say, a Doritos Locos Taco. There's another factor at work, too: accuracy. "The one thing that angers a customer most is to not get the right food," says Oches. "It's possible to be too fast." Consumers get so upset when they find the wrong kind of burger or the wrong toppings in their bags, that many fast-food sellers are either slowing down the process or adding additional order-accuracy checks to assure correct orders. Some chains are "doubling down" on order accuracy, says Oches. "Customers will be patient if you give them hot, accurate orders," says Oches. Even then, 2013 has not been the industry's best year in order accuracy, either. Order accuracy for drive-thru meals for the industry was at 87.2% this year vs. 88.8% last year. The chain ranking highest in accuracy: Chick-fil-A at 91.6%.
Donna Brazile takes on food stamp critics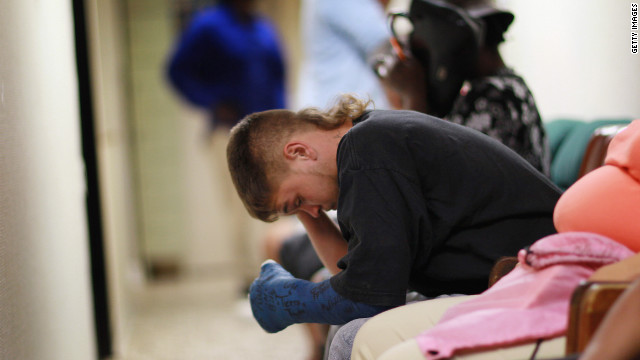 Most consumption decisions are made by individuals at the supermarket shelves. But behind this change in consumer habits is a global league of leading social entrepreneurs, innovating, creating new markets, and understanding the key drivers of human behaviour. Michael Kelly says Grow It Yourself The latest trend to hit the local food movement is to go straight to the source and grow your own.Increasingly consumers are asking themselves where their food comes from and how they can be sure it is safe and healthy.Five years ago, this prompted a real aha moment for Michael Kelly , Founder of Grow It Yourself (GIY) and now an Ashoka Fellow. Picking up a clove of garlic in Ireland, Kelly was bowled over to see a fresh from China sticker on as small and cheap an item as garlic a product which grows naturally and abundantly in Ireland. Digging deeper, Kelly found Ireland imports no less than 4 billion per year of produce, which could be grown locally, despite being a net exporter of food and drink. His solution was to plant garlic himself and convince thousands of others to grow some of their own food too.Through GIY, Michael aims to make it easy and sociable for anybody to start growing food for the first time. He has created a GIY network with dozens of locally-run chapters and events and an online platform to share tips and resources. Five years on, the GIY network connects more than 50,000 people and 800 food-growing groups. In Ireland, GIY is not just a network but a new cultural movement cutting across age and class divides. Michael is now ready to take on other global markets. Last July saw GIY formally launch internationally, with Michael leading a day-long UK event mobilising food enthusiasts, community groups, and growing experts from across the country. Key driversbehind the Grow It Yourself movement Four key insights have allowed social entrepreneurs like Michael to have real impact on human behaviour and food consumption patterns. Sustainability just got personal: Localism is having great impact on the environment, cutting down food miles and chemicals from agribusiness. But social entrepreneurs like Michael know you must tap into a range of personal motivations and interests to create a successful mass movement. In the case of GIY, foodies know that locally-grown food is more tasty and cost effective.
STORY HIGHLIGHTS Donna Brazile says her column on food stamps got tons of comments, many misinformed Brazile: Recipients are 49% white, 26% black, 20% Hispanic; conservative and liberal Joblessness fuels food stamp use, she says; most funds go to children and elderly Brazile: We need compassion, courage to improve program with incentives, job training Editor's note: Donna Brazile, a CNN contributor and a Democratic strategist, is vice chairwoman for voter registration and participation at the Democratic National Committee. She is a nationally syndicated columnist, an adjunct professor at Georgetown University and author of "Cooking With Grease: Stirring the Pot in America." She was manager for the Gore-Lieberman presidential campaign in 2000. (CNN) — After the vote in the House of Representatives to slash the Supplemental Nutrition Assistance Program, I wrote a column against cutting food stamps. This column generated more than 5,200 online comments and hundreds of e-mails. Comments reflected, not surprisingly, the tone and tenor of the political debate: a lot of partisan passion, some mutual understanding, animosity based on stereotypes and a lot of misinformation. I would like to address some of the typical concerns that were expressed. For example, "Willis CurryFans" wrote, "These wealthy Republicans spend a lot of time RUNNING from the typical black person this affects. If they came and visited some of these neighborhoods, they would see folks that they KNOW they won't give a job to." Donna Brazile But who are the people using food stamps? They're us. The Census Bureau, which gathers statistics house by house, reports that Americans on food stamps are 49% white, 26% African-American and 20% Hispanic. The Pew Research Center, a nonprofit polling firm, found in a July survey that self-identified liberals, moderates and conservatives who receive food stamps are in a statistical tie. A lot of people who commented on the column wanted to regulate what foodstuffs program participants can buy — often not realizing that alcohol and prepared foods are banned. And many respondents bashed food stamp recipients, declaring they should "get a job," "stop having kids on my dime" or giving a variation on such cliches.
Won't foot food bill: States
Though 22 states participated in the meeting, three BJP-ruled ones Gujarat, Madhya Pradesh and Chhattisgarh did not send their ministers. Food minister K V Thomas said, "States have their opinion and we have ours. We will resolve the issue." He said a committee has been formed to address concerns. He added about 50% states including BJP-ruled ones will launch the scheme by this year-end. Earlier, leading the attack, Uttar Pradesh food minister Rajendra Chaudhary charged the government with bringing the law "hurriedly" for political gain and "hosting the notification on the web" without putting in place a system to ensure that the poor got foodgrain and there was no diversion of subsidized grains to the open market. "Include states' concerns in your list of concerns," he added. Chaudhary asked the Centre to bear 100% additional expenses on all accounts including transportation, handling, commission to ration shop owners and setting up of consumer redressal mechanism. He also sought funds in advance for implementation of the law. UP is the biggest gainer of the central law. Another state government official said that when the Centre is using the scheme for political dividend and can spend huge on food subsidy why can't it pay little more for other expenses. UPA's new-found friend JD(U) did not leave the opportunity to put forward its list of demands. Bihar food minister Shyam Rajak said the Centre should bear the entire expenditure on end-to-end computerization of the distribution system. Congress-ruled Andhra Pradesh demanded that the Centre should allocate 1.6 lakh tonnes of additional rice per month to meet its demand. State food minister Sridhar Basu said if the Centre did not help, then the state would end up spending Rs 3,000 crore annually, which would impact its other social security programmes. He asked the Centre to bear the entire expense for inter-state transport of foodgrain.